Newsletter | December 2022
By: Abby Rossi
December 12, 2022
A Message from the President
Happy Holidays! We want to thank all of our customers and wish everyone much success in 2023 both professionally and personally. One way to ensure that you keep things running smoothly is by taking advantage of educational opportunities to maximize your PrestoSports solution.
Winter Webinar Series
Join us for the last session in our Winter Webinar Series! It will be led by our all-star subject matter expert to share key tools for Athletic Departments as they undergo their winter seasons.
Tuesday, January 10th – Best Practices for Live Streaming Your Sports
Were you unable to attend either session one or two? Use the buttons below to watch the recordings. 
PrestoSports Mythbusters
MYTH: PrestoSports doesn't have an all-in-one bundle with everything.
FACT: We now offer a 'Super Suite' with everything at a great discount.
PrestoSports Intake Form
The goal of our intake form is to help alleviate issues with our clients not knowing who to contact, how to contact, and getting routed to the incorrect department when trying to contact us.
Your Team's Starting Line-Up
Meet Sean Offerdahl Implementation Specialist
Sean is on the Implementation team with PrestoSports. He has always had an interest in sports as he ran cross country and track & field in high school as well as track & field in college.
Sean graduated from Malone University with a double major in Business Administration and Sport Management, then attended Kent State University for his master's in Sport & Recreation Management.
Prior to working at PrestoSports, Sean was working in the Sports Information departments at three different NCAA schools, so he is very knowledgeable! He started off on the Web Support team before transitioning to the Implementation team earlier this year.
Quick Tips from an Insider
New Feature! PrestoWeb
In an effort to account for upgrades and local site overrides within the PrestoThemes platform, we have begun working through changes to our themes platform.  Ultimately the benefits are projected to be tenfold and result in an optimized content structure, simpler site upgrades, and better overall site performance.  Although no changes are required by site administrators, keep a look out for the new design soon!
Some additional core updates to PrestoWeb and CMS include: 
Added autosave feature that will allow you to remain on content edit pages for an extended period of time before timing out without any activity.

Added shared roster headshots that will ultimately supplement an optimized leader component.

Added the ability to apply fractional point values to standings files, supporting half point overtime wins and losses.

Removed customized event restriction allowing administrators to identify a neutral site and venue location.

Added default sort by uniform number to player stats CSVs.

Safeties are now included in football season XMLs.

Added start date and end date to standings templates.

Fixed issue where Women's lacrosse box score coaches view was still displaying faceoffs as opposed to draw controls – CMS, Web, Stats
If you're ever looking to see the most recent updates from PrestoSports, just click on the version number in the "my account" window.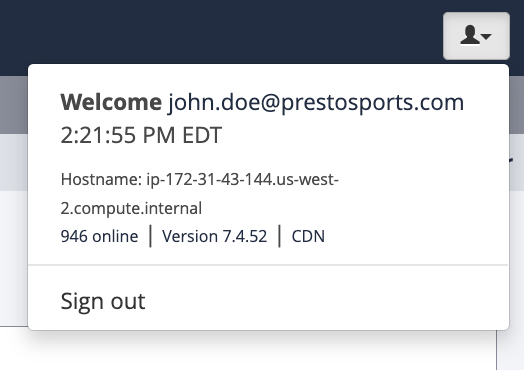 PrestoStats
PrestoStats now supports updates to your shared roster uniform numbers without retroactively updating previously existing game XMLs. This will allow you to update your players uniform number and retain their statistics accumulated while wearing another jersey.
Coming this winter, we'll be adding a new and improved version of Football to PrestoStats, completely changing the scorekeeper experience from the broadcast booth. If you have a tennis, football, or flag football program, reach out to your client success manager to try out the beta platforms today!
PrestoShots
Did you know that your PrestoWeb CMS account administrators can assign permissions to give your users and teams access to integrated stats, rosters, and schedule infographics to be added to your site pages and/or social media platforms?
Coming soon, PrestoShots users will be able to search for templates, retrieve team information for NCAA schools outside of the PrestoSports network, and interact with in-app messaging and guide tutorials that simplify the template creation and deployment processes.
Interested in trying out PrestoShots? Sign up for a trial account that's integrated with the PrestoSports Super Suite today!
PrestoStream Studio 
This month we've added support for Football and Soccer to the PrestoStats Automated Scorebug allowing you to highlight your sponsors and display live stats. Also,  it couldn't be more simple to use and enhance your production level! As long as you have access to stat the game, you'll have access to launch the scorebug. Just look for the "Launch Scorebug" button next to "Launch PrestoStats."
Learn more about streaming by watching this previously recorded webinar.
Contact your Client Success Manager to sign up for PrestoStream Studio today.
PrestoMobile
This month we're introducing Gamecast, an upgraded way for fans to experience your games right through your PrestoMobile app! With Gamecast, fans can follow along with the action live stats as you enter them. And even better, if you are streaming with us, they video live too. Already streaming? Streaming Player is also available right inside the event, making PrestoMobile a one-stop shop for fans craving your games. You can even pair Gamecast and Streaming together to give them an unparalleled view of the game and up-to-the-second stats.
Real-Time Updates
What's going on?! Don't wait and wonder, subscribe to our System Status Update to get real-time updates of any system issues and expected timing for resolutions. You'll save time by not reaching out to support and can stay focused on helping your team! You can receive these message updates through email, text, webhook, RSS, and Slack.
Steal Our Sports Marketing Playbook
 To meet new fan and program expectations athletic departments have to work as a seasoned team in every facet and in interaction with both athletes and fans. It's a big ask of already lean departments – that's the reason we created this playbook.
What's inside: 
Downloadable Templates

Marketing Strength-building Exercises

Calendars to Keep you on Schedule

Work plans for Error-free Execution
 It's everything you need to help get your team up to game speed in the shortest time possible.
Can We Help You? Utilize the PrestoSports Partner Community yet?
It's time to take advantage of the PrestoSports partner community. It has many self-help and how-to guides, tutorials, and instructions to assist you with the latest features and get you ready for a new season. Check it out at support.prestosports.com.